2017 – Unhinged
Unhinged was our robot for the 2017 game, FIRST STEAMWORKS. Our robot could:
•    With the use of a hinge, open up the robot to service the battery and electrical board.
•    Ran with four omniwheels on a mecanum drive system.
•    Had a script editor for autonomous, allowing the ability to create and edit autonomous routines on the spot.
---
2016 – Sir Lance-a-Bot
Sir Lance-a-Bot is our robot for the 2016 game, Our robot could:
•    Six pneumatic wheels to cross over defenses with ease
•    A mechanism to go under the Portcullis and over the Cheval de Frise
•    A ball intake system that can easily collect balls and deposit them in the low goal of the tower
•    Collapsing attachments that fit under the low bar
---
2015 – Tippy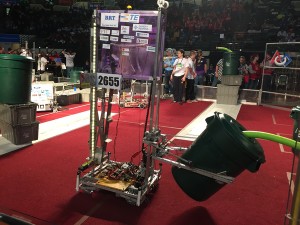 Tippy was our robot for the 2015 game Recycle Rush. Our robot could:
•    Stack totes up to six feet high
•    Put a recycling bin on stacks of totes
---
2014 – Doom Snail

Doom Snail was our robot for the  2014 game Aerial Assist. Our robot could:
•    Pick a 2ft diameter excercise ball
•    Pass the ball to allied robots
•    Shoot the ball in the high(7-10ft) or low(on the ground) goal
•    Truss and Catch the ball
---
2013 – Sloth Bot
Sloth Bot was our robot for the 2013 game Ultimate Ascent. Our robot could:
•    Climb to the 3rd level
•    Dump Discs into the low goal
•    Dump colored discs in the pyramid goal
---
2012 – Companion
Companion was our robot for the 2012 game Rebound Rumble. Our robot could:
•    Shoot 8 inch basketballs at goals 8 feet 2 inches off the ground
•    Climb the tilting bridge
•    Drive and shoot in autonomous
---
2011 – Godzilla
Godzilla was our robot for the 2011 game LOGOMOTION. Our robot could:
•    Place innertubes on 9.5-foot racks
•    Pick innertubes up from the floor
•    Deploy a minibot
---
2010 – Windexter
Based on the Mars Rover our robot, Windexter, made for the 2010 game Breakaway. Our robot could:
•    Climb over 1-foot tall bumps
•    Kick soccer balls
---
2009 – The Refrigerator
The Refrigerator, our robot for the 2009 game Lunacy™, was a 5-ft tall robot with a conveyor belt and three pneumatic pistons. Our robot could:
•    Pick balls up off the floor
•    Shoot at most 3 balls at a time
•    Hold up against defensive robots
---
2008 – CYBER
Doom Snail was our robot for the  2008 game Overdrive™. Our robot could:
•    Pick a 2ft diameter excercise ball
•    Pass the ball to allied robots
•    Shoot the ball in the high(7-10ft) or low(on the ground) goal
•    Truss and Catch the ball